I am thrilled to share that as I write this I am into the 19th week of my pregnancy and feeling great! The holidays are upon us and although I did not get around to any more holiday themed items this year, that is ok, plenty of time for next year right?! ;)
In and around preparing my shops for the crafts shows I participated in this season, I wanted to start a few projects for the post-holiday season, and upcoming new member of the family season, which is set currently for mid-May. First up, a basic granny square pattern baby blanket. I wanted something super easy and with no pattern required, so this foot that bill nicely. I had tons of extra yarn around and thought this would be a great colorful project to use up some.
Here are the stats:
Yarn: Caron Simply Soft Yarn, in many different colors (15 including White)
Size: 42 inches x 42 inches square
Hook Size: H
I really am unsure how much yarn total I used, given that the amount per color increased as I went but I know I used about 2 full skeins of White.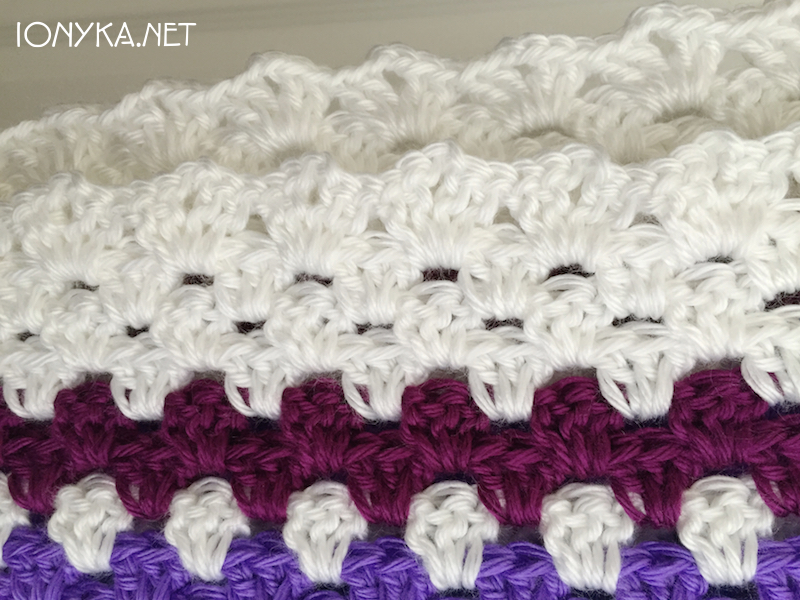 The basic "pattern" I followed was 2 rows of a color, followed by 1 row of white. When I got to the end of the colors I wanted to use, I did 3 rows of white, then a final row of 2dc, ch 2, 2dc, instead of the normal 3dc cluster for a more finished edge. I love it!
Next I plan on doing a larger full size blanket with some yarn I got for it in yellow, teal and purple, but I want to use the chevron pattern my Grandmother used when she would make us blankets so once I get that I will start on that next as I know they take awhile to make. I will probably do some other projects as well as time goes on so as I do I will update! More picks below, thanks and happy holidays!