In and around all the baby blankets I have been doing I wanted to share some personal projects that I completed and have photos of :)
First up, a hat, with a pom pom! I had not made myself a hat in quite some time. And I just love this yarn and hadn't made anything for myself with it yet so I gave this pattern a try. I will admit I made the band a little too big, but it still fits well enough. I should have done about 6 or so rows less than I did because it stretched a bit more than I thought it would with wear, but I still like it :)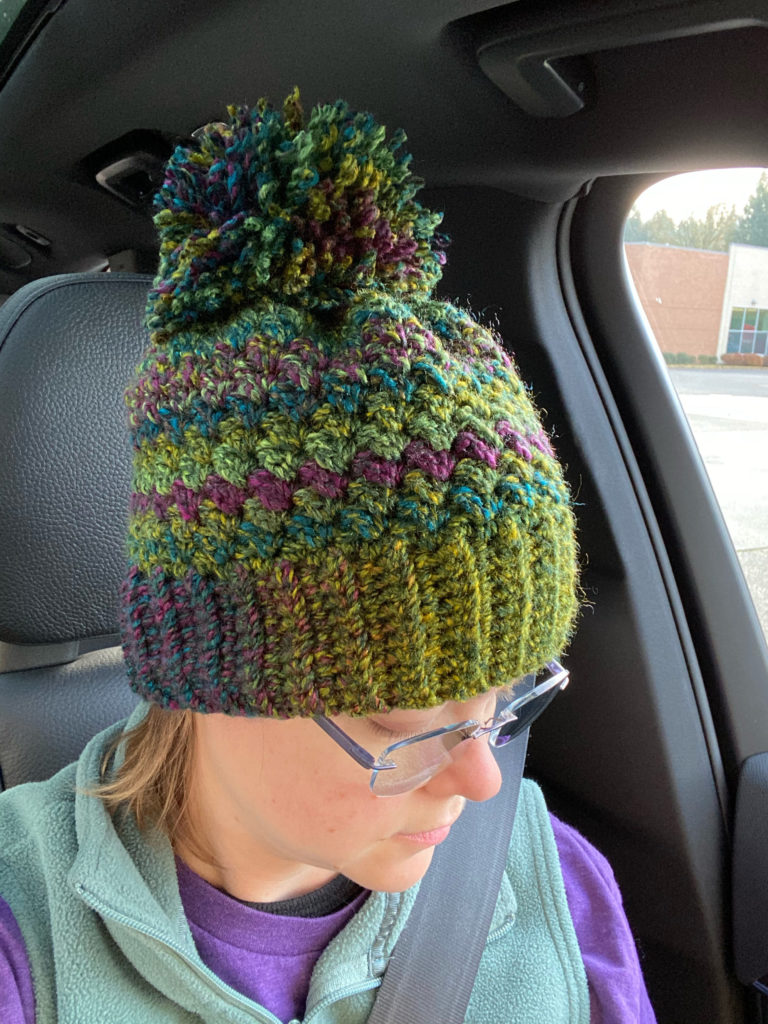 I used this pattern. I will admit, I am usually not a "brim to crown" hat pattern person. I usually like starting at the crown and working my way down to the brim, but I am pleased I used this because I really wanted it to have a stitch like this with the color changes the yarn had. The pom pom was made the standard way you typically make pom poms, I won't link to anything because I would say it came out ok but not amazing :) There are tons of videos/resources out there to help with them so I will leave you to find your own path with them.
Next up is a poncho style coverup. I documented this one actually already in my Ravelry account with additional work up details. But here are the basics:
Pattern: poncho with two rectangles
Yarn: Garnstudio DROPS Flora in Amethyst – I bought 8 skeins for the project

The biggest change I made was I used bobble stitches instead of popcorn stitches and I added some extra rows to make it a bit wider. I also used the suggestion to do a foundation hdc instead of chains and hdc because it let the panels stretch a bit better.
Here are details about the borders:
Outer edging:
[sc, sc, sc (ch 3 picot)] all the way around
Inner edging:
1 row hdc (3 stitch decrease hdc in 2 corners)
1 row hdc (also decrease every 5th stitch in longer side)
1 row hdc (also decrease every 5th stitch all the way around)
Thanks for stopping by!