Patchwork Squares Blanket
I wanted to share a few more projects that I have wrapped up recently, all baby blankets as I relax between my 38th & 39th week of pregnancy. The big day is right around the corner, I can hardly believe it!
The nursery room is all set and I wanted to add a few personal touches to it to make it complete.
First up is a pattern I found awhile back that I wanted to use with our nursery colors. I liked the mix and match look of the squares and knew it would be something I could do relatively quickly as the patterns are fairly basic.
Pattern: Modern Patchwork Blanket by BabyLoveBrandKids

Materials Used: Size 5.0 Hook, 2 skeins each of Red Heard Super Soft Yarn in White, Light Pink, Heather Gray & Dark Gray. I ended up not using the full 2 skeins of each color and depending on how you choose to divide out the colors for the squares it can vary but I ended up using around 1.5 of each.
For the border I kept it simple with just a row of the pink sc all around, then a standard granny square row of each color. It was then that I noticed that the chevron squares came out a little larger in size than the circles squares, so it created a bit of a 'bumpy' effect, but it isn't too noticeable (except for me!). If I were to make another one of these, which is highly likely as they would make great gifts, I would instead add another row of dc to the circles squares in addition to the pattern, to size it up a bit. Otherwise the pattern is very nicely written and was easy to get the hang of.
It goes really well with my glider too!
Large C2C Blanket
Next up is a blanket that while intended to be a "baby" blanket, I went a little (read: a lot) overboard with the size and made a rather large blanket instead, but I really love this yarn so let me explain.
While I was working on my Chevron Blanket I had finally decided on the colors for the nursery so I went searching for some fun chunky yarn to try out the C2C (Corner to Corner) pattern with. I immediately turned to a long time favorite brand James C. Brett and was excited to find a yarn that had both the light pink and the grey I wanted. Score!
I did not really follow any pattern for this blanket, but I did reference a youtube video to get me started and learn how to begin to decrease once I got to the width I wanted. It is very easy and works up soooo much faster than the Chevron, which I think is one of the reasons it turned out larger than a standard baby blanket size.
Materials Used: Size 6.0 Hook, 7 x skeins of James C. Brett Marble Chunky Yarn in MC20.
I originally purchased 6 skeins, but when I finally was working my way down to the corner, I was a handful of rows short, doh! So in order to finish it and also do a border, I ordered 3 more skeins, but only ended up using 1 of them. Which worked out nicely actually because I remembered I had a 16×16 pillow form from a Joann's run awhile back so I made a matching pillow to go with it!
For the border, once I was down to the last corner, I did a row of [sc, ch 3] all the way around, putting the sc in between the clusters. See photo below:
Then I went around again and put 3dc in each ch3, and put [2dc, ch1, 2dc] in each corner.
I think it gave it a nice finished look but not a think border, which I am happy with. The final size ended up being around 55 x 80, which means it is big enough to be a couch blanket for me to use while I am nursing or sleeping etc.
The pillow I made in the same C2C fashion, making 2 C2C squares of 16 rows each, then joining them together with a simple whip stitch.
Even after all of that I still have 1 full skein left over of this yarn, so I will see what I end up doing with it, but I foresee an actual baby size blanket in the future for it likely!
Simple Granny Square Blanket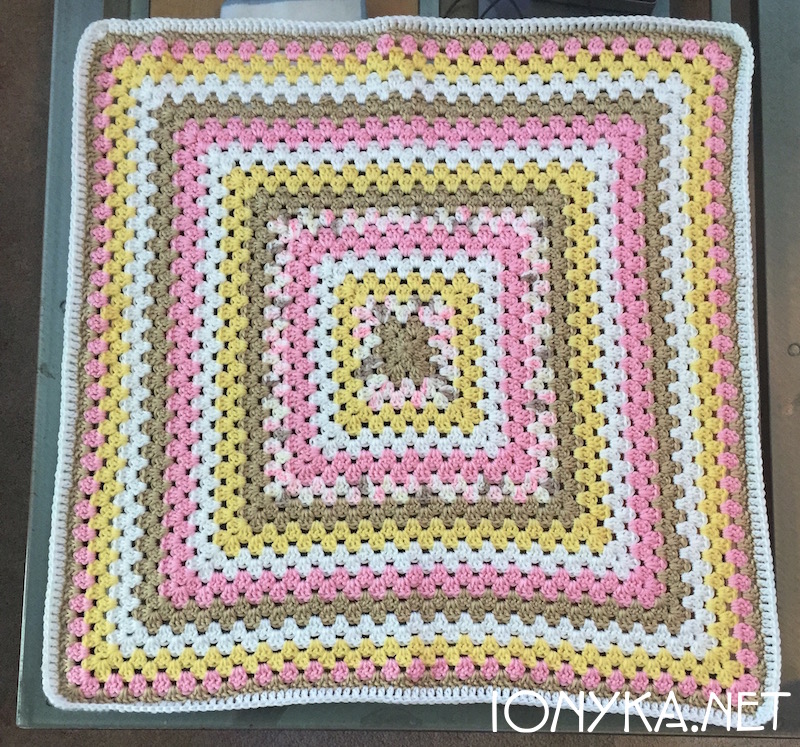 Fortunately I have a good friend who is also pregnant and lives just right around the corner from us so we have gotten to share this experience together which has been so fun. I wanted to make her a baby blanket in her nursery colors too so I gathered up some yarn and made her this granny square blanket with a solid white border.
Materials Used: Size 5.0 Hook, Red Heart Super Soft Pink & White, Caron Simply Soft Light Yellow and Tan and a little bit of what I had left of some Bernat Softee Baby yarn called Little Bo Peep that included all the colors together in an ombre, which I had used previously to make some little baby hats for friends and myself.
No pattern followed, just kept going with 2 rows of each color in a somewhat randomized way. Ended with a straight row of white dc's all the way around.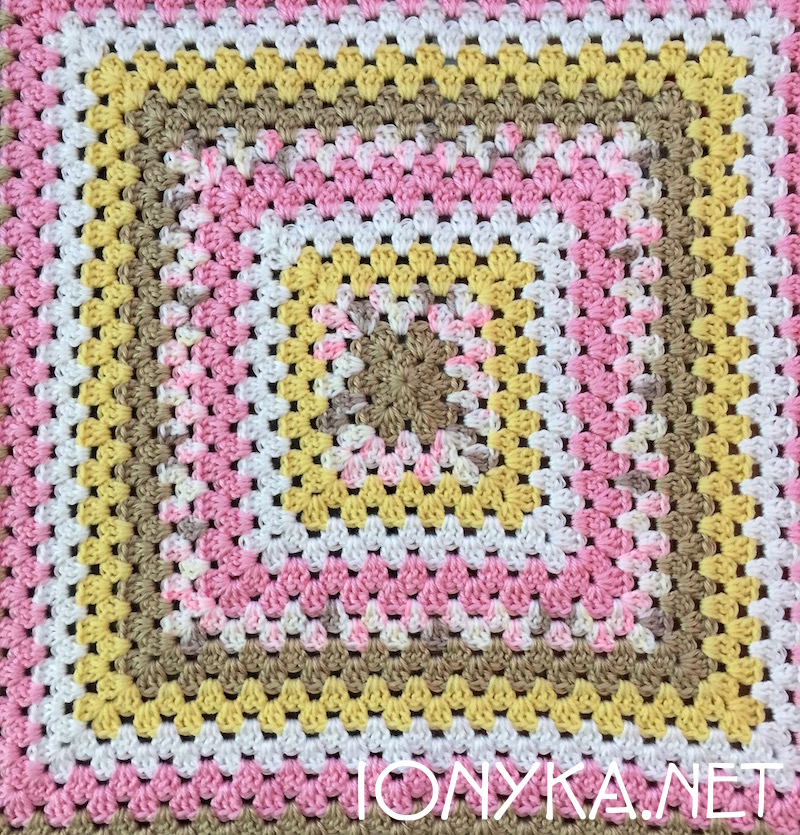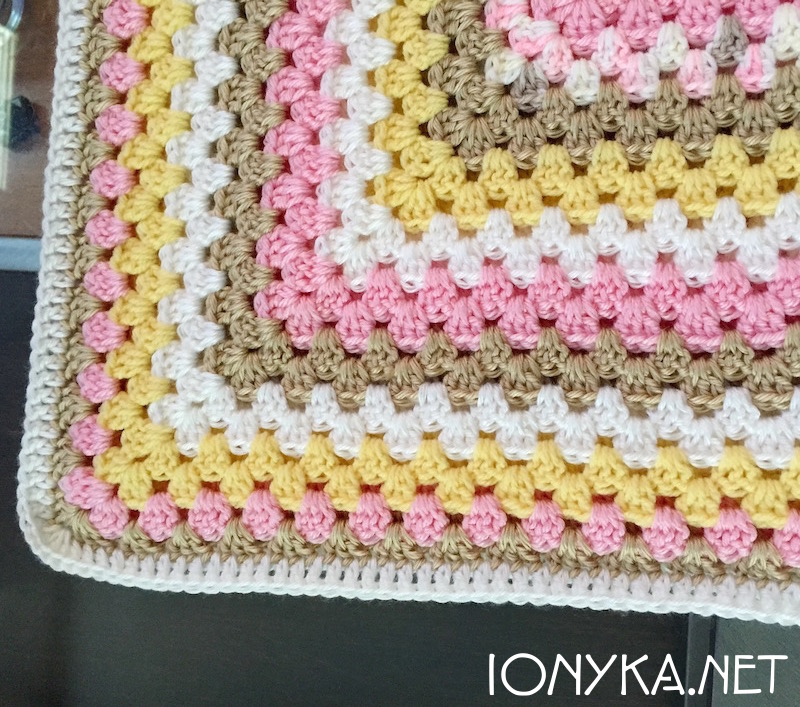 It turned out to be around 30 x 32 inches which is what I was going for luckily as I ran out of the ombre yarn very quickly and also the pink. I gifted this blanket and a matching little hat like the one I made above to her this past weekend at her shower and she was so thankful to receive them!
Wow, lots of blankets! Thanks for stopping by!